Yesterday evening, I was heading home after speaking to a class of college students about my career journey to date. Earlier in the day, I'd created some Visit Philly content for a small business, worked all day, fielded emails and edited blog content and just wanted to pass out on the couch, finish some work while laying in bed and get to sleep as soon as possible.
The universe had other plans for me, and I'm so glad it did.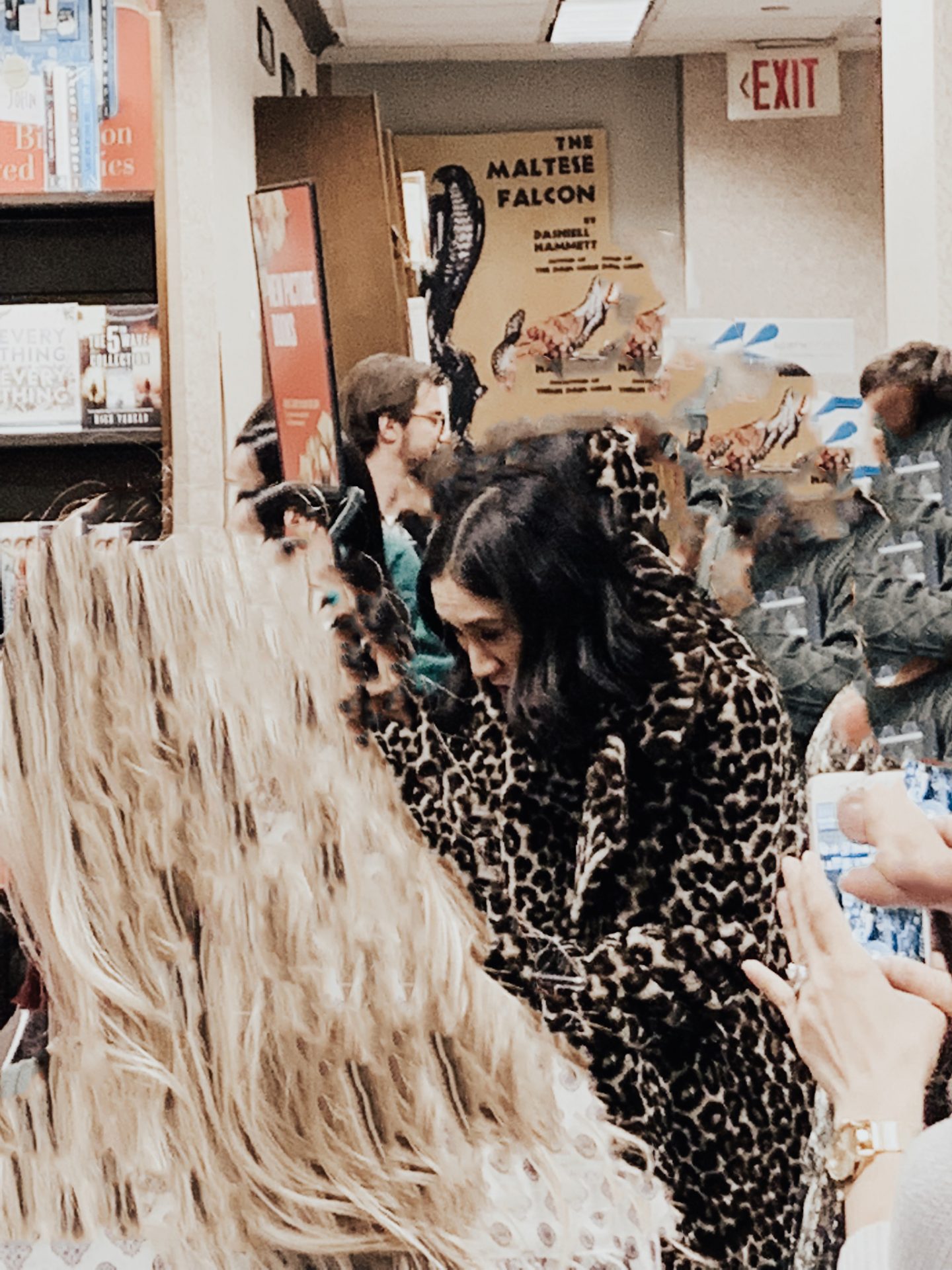 Something told me to get off at a different subway stop than I usually do, and head home that way. Sleepy me didn't feel like arguing with listening to the universe me, so I stay on a bit longer and got off a stop later. I was walking towards home, when I passed Barnes and Noble and remembered that Eva Chen would be there promoting her new children's book!
I'd forgotten this was happening because:
No one does a worse job at promoting events and author talks than your local Barnes and Nobel
I've been so overwhelmed with the launch I was only half aware that it was even Tuesday
Sleepy
At first, I was going to just keep walking. It was already 7pm, the event was set to start at 7 and I wanted to go home and make dinner. But something just told me to head upstairs, if only to grab a photo and the book to give to a friend's kid. It was super crowded, but I was able to work my way around the crowd (good thing I know my way through those bookshelves!) and got a great spot standing just a few feet away from Eva!
Everything about her talk was charming, inspiring and really touched me. Seeing so many Asian and Asian America parents and kiddos there, holding a book that represented them and showcased so many other women was absolutely beautiful. Representation matters.
I wish I could relive that night and everything she taught me over and over again. I couldn't share much on Instagram stories in the moment, because I was taking so many notes! So I've decided to share my Eva Chen wisdom — appropriately titled #EvaChenNotes in my phone, with all of you here! Hopefully you get as much out of it as I did.
On when you should pursue a passion project:
Ask yourself these questions:
When will you have the soul space to do it?
When will you have the resources to do it?
If you need to network, save money or arrange your life in a way that enables you to do what you love, be sure to do that.
She spoke a lot about getting over an idea that everything has to be a certain way before you act. She even said: "I feel like everything can fall apart at any given second. It's a house of cards."
The idea that there is a "balancing act" is a fallacy. Balance is a precarious state that is very delicate. Women need to be more forgiving of themselves.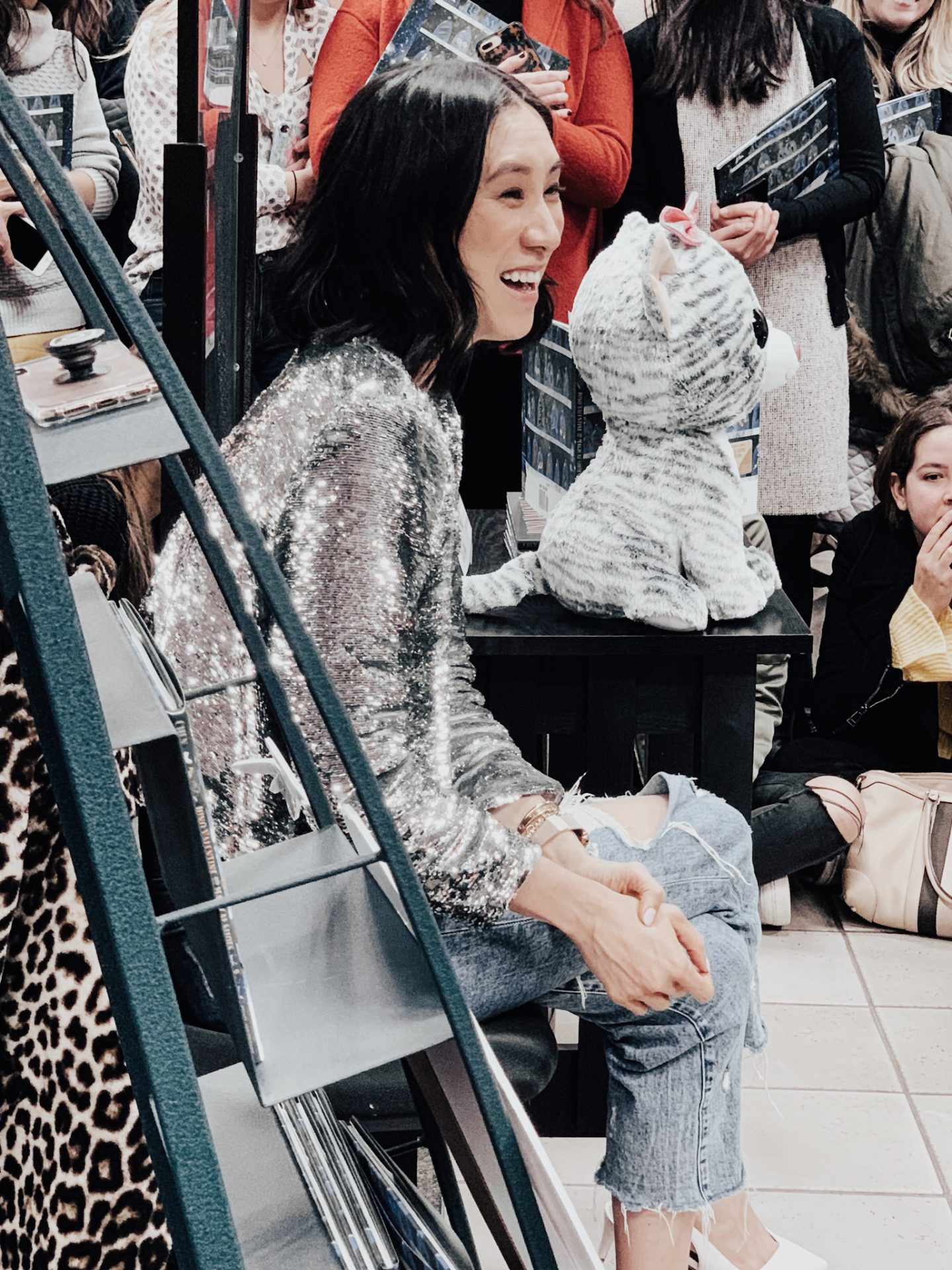 On how the #EvaChenPose became a thing:
If you're a fan of Eva, you've likely seen her photos featuring a food item, the bag she's carrying and her shoes perfectly placed in the backseat of her car and tagged with #EvaChenPose. Eva explained that she's constantly surrounded by fashion and beauty bloggers who go through great extremes to strike perfect photos for editorial like shoots. Think Aimee Song on top of a mountain holding her couture bag. She started taking photos of her in her own natural habitat –on her way to meetings or to pick up her kids, and featured things she always has on hand –a bag, shoes and food.
The key takeaway here: that "special key" you're looking for to set yourself apart online will likely come from you being your most honest and authentic self.
Career Advice:
She encourages us to take a minute and acknowledge that everyone has felt lost in their career. Even Oprah! Everyone goes through periods of transition.
She told us to think about the last time we felt joy. Then counter the feeling of being lost with the feeling of experiencing joy. Don't be afraid to network, branch out and talk to people. Ask for help. You are not an island, and if you are working solo, you should still build bridges. Set up coffee dates and tell people you want to be inspired by their career.
On Relationships and Marriage:
It was refreshing to hear Eva's honest takes on her own marriage. Someone asked how she managed her career, passions and family while keeping her marriage fresh. She admitted that right now, with two small children, she and her husband are in survival mode and probably won't have time to focus on their marriage until her youngest is at least 5. I think that's so real and not what you hear from most women or men when talking about the reality of marriage.
Her advice to anyone looking for a partner was to find someone who can balance you out.
Advice for young Asian women (or any young woman) who wants to be taken seriously:
Understand that there are older people who you will work with and for who blame millennials for everything. You have to work harder but should not internalize the stereotype.
Also understand that because you look younger and media portrays you in a certain way, you'll constantly be combating that image.
Beware of up-talking! Women are forced to question things so many things, don't question yourself.
Get comfortable bragging about yourself and the work that you do. Don't worry about sounding obnoxious or vain. Your peers (especially white men) will never have a problem bragging about themselves while you don't.
On being a manager:
If you find someone who is good at their job and see a spark in them, see that they're driven and passionate, make sure they don't waste it. Even if that means they move on to new roles or companies.
Hire people that you can about personally and professionally.
People should be good at their job and a good human being.
Don't overlook someone just because they aren't fully there yet. If you think you can fan the flame into something good, do that.
Always be honest with your feedback. It's in everyone's best interest.
And her final parting words of wisdom: Support women, help women, and be there for women. Be a voice. And be a role model. 
You can click here to purchase Eva's new book, Juno Valentine and the Magical Shoes. It's also listed in the books section of the blog shop! If you aren't into children's books, I suggested buying a copy or two for a special kid in your life or gifting copies to a school or teacher. Meeting people you look up to online in person can always be hit or miss, but meeting Eva was an absolute hit. She was kind, graceful, witty and so smart. Hearing her talk was self care in so many ways.